On that
subject

...
in Streamside
Hi Folks, You might remember my good friend... MORE
WPBS, the Public Television station that produced... MORE
Tonight on WPBS-TV (Watertown, NY), Don will... MORE
in Fishing Tackle
As I sit here at this keyboard, the wind is... MORE
Letís face it! When the weather gets cold and... MORE
Here are some hot lures we used during our trip... MORE
As I have so often raved, the waters of the St.... MORE
Here are some photos from our trip yesterday on... MORE
in Trout
For those of you that have watched my show... MORE
in Fly Fishing
Hi folks, The World Fishing Network... MORE
The days are getting longer and the idea of... MORE
In this photo at the right, Don holds his nearly... MORE
This site has given me a fantastic opportunity to... MORE
Tuesday, January 19, 2010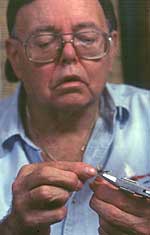 I recently learned of the passing of Fran Betters. In a world where many people breathe and dream trout, Fran was a legend. For decades his fly shop was the meeting place for visiting anglers seeking advice on best flies or hot sections of the fabled Ausable River. Fran wrote several books about the region he loved, and his poems will keep his spirit eternal for all who long for the Adirondack experience.
I remember Fran greeting folks as they entered his shop, always eager to tell a joke or stir their excitement with tales of huge trout impatiently waiting to do battle with the next hapless fisherman that invaded their home pool. Fran was a master fly tier, and had a number of locals who helped keep his shop stocked with all the deadly patterns that were guaranteed to fool even the wariest old brown.
I remember doing a "Streamside" Show where Fran was my guest. He took me to one of his favorite sections of the river and would point to some underwater rock that I couldnít even see and tell me to cast there and expect a strike. And most of the time he was right. People like Fran made it so much easier for me to enjoy those unique fishing areas that I would not have been able to discover as easily on my own. He made the show special, and for that, I will remember him fondly. Fran will indeed be missed, and he will live on in our memories.
Technorati Tags:
[where: 13679]